1. Install required software
Please download and install XQuartz if you don't have it yet. Then restart your Mac.
2. Expand "khcoder3" folder: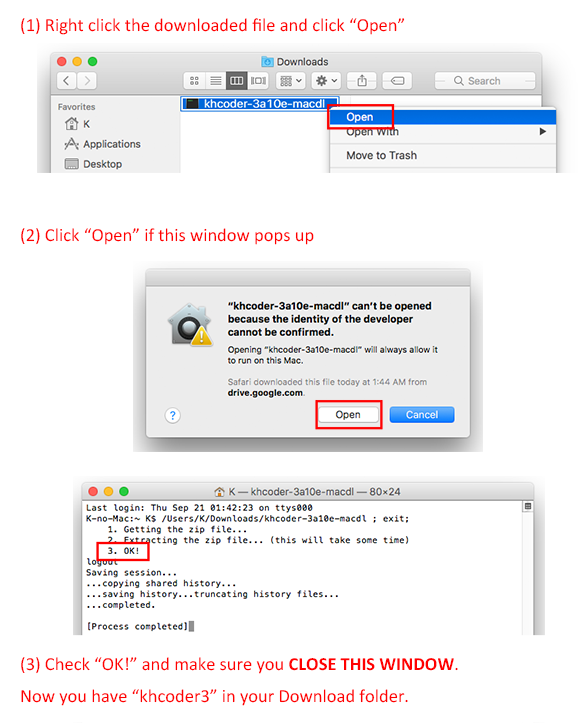 (click to enlarge)
If you want to move KH Coder somewhere other than "Download", move the whole "khcoder3" folder. Do not move "kh_coder" file only.
If you have older version prior to 2019/06/19 (3.Alpha.16d), please perform this action before proceeding.
3. Start KH Coder: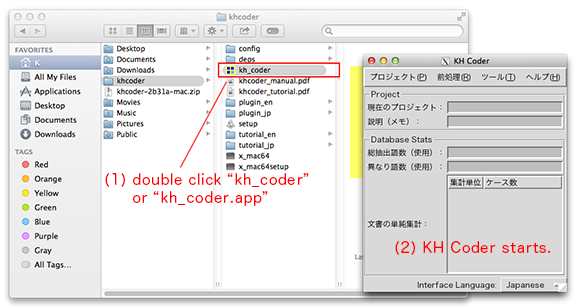 (click to enlarge)
From here, please follow the instractions in the Tutorial.
Where to buy
You can buy it here: Support Services for KH Coder Users (Gumroad.com)
You have to read and accept the license below before buying it.
This automatic setup software is not a free software. And you cannot redistribute this software.
You have to buy as many copies of this software as the number of computers you would like to use it on.
This software is provided "as is" without warranty in any kind. The provider of this software is not liable to you for damages including any general, special, incidental or consequential damages arising out of the use or inability to use this software.